Sean Rasmussen – Internet Marketer
Sean Rasmussen is an Aussie Success Communicator and Internet Marketer.  Over the past six weeks or so he has been running a Learn and Earn competition on Internet Marketing.  During this time he has presented webinars, usually once or twice a week, on topics such as:  affiliate marketing including Clickbank and Commission Junction, Twitter, Facebook, LinkedIn, YouTube, Alexa, how to build a blog, and blogging.  If you can't attend the webinar (due to J.O.B or living in an awkward timezone) the recording is uploaded to his site usually that evening Australian time (gremlins permitting).
As a huge Clint Eastwood fan (possibly THE #1 Clint Eastwood fan) he has been using Eastwood's films as a theme.  This Internet Marketing Competition is titled For A Few Dollars More.
He continues the theme with webinar titles such as:
Escape from Alexa where he covers the benefits and features of Alexa.
For A Few Tweets More where he gave the basics on Twitter.
In Make Money With  Twitter he gave away The Ultimate Twitter Guide.  This is a great resource.
There is also a series of YouTube videos Replacing Your Income Online. These were filmed in Sydney in 2009 with Alexi Neocleous (Aussie Copywriter) interviewing Sean Rasmussen.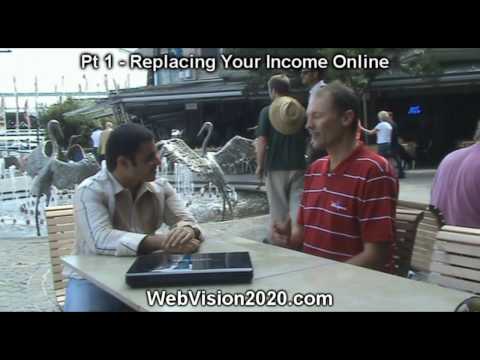 Throughout the competition Sean Rasmussen is not just talking about these social media tools but actually uses them as part of the competition.
Sean Rasmussen – His Own Man
Becoming a successful Internet Marketer has allowed Sean Rasmussen to sack his boss which he did 5 weeks ahead of schedule on 8th December 2005 at 7am.  That must have been one hell of a great feeling!
Today he gets to do what he wants, when he wants and enjoys taking his wife, Cherie, and their two sons on trips overseas.  Now that's my kind of life!